For some, camping simply involves a weekend away with your family or friends, some fireside banter while you roast your marshmallows, and shacking up inside a tent out in the wild. For others, though, it is a way of life. With the right tools and preparation, you can cut down travel and setup times and really get the most out of your trip. However, if you learn how to treat your car as a camper, the transition from travel to sleeping is almost instantaneous. Not every vehicle is fit for this purpose, though, so the first step is picking the best tool for the job. Some standout models contending for this position include the Ford Expedition, Subaru Outback, Chevrolet Equinox, or Volkswagen Golf Sportwagen.
Qualities to look for
So, what exactly makes these the top choices? Well, a number of factors, both obvious and subtle, need to be considered. First of all, is there actually enough space inside the cabin to comfortably sleep? Sure, you could sleep in reclining seats in a pinch, but if this is going to be a nightly affair, comfort is an absolute must. Thus, two- or three-row SUVs and wagons are your best bet. By folding down the back-seat benches, you free up a large enough area to actually set up an inflatable mattress and stretch out a little in your sleep.
Beyond size, you also need to take into account capabilities. Camping is seen as a rugged activity, and while modern amenities have led to what is now referred to as glamping, there will still be times when you need to venture off the beaten path or get your hands dirty. For this, an all-wheel-drive or 4×4 vehicle is a must. True, a powerful engine certainly helps, but it is often grip and control that matter more. This is another reason why the crossover or wagon body style is so popular, since these drivetrains are readily available to either.
However, while rugged dependability is a key point, that doesn't mean a bit of luxury doesn't help to make those long cold nights more tolerable. A well-appointed cabin definitely helps you feel more at home, and being able to charge your devices with a cargo-area power outlet is a welcome boon. Naturally, the daytime advantages are numerous, too, such as cushy upholstery for long drives, automatic climate control, and a host of driver-assistance features ready to kick in if you get distracted by a stunning vista.
Tips and tricks
If you plan to spend the majority of your time on the road, you need to think carefully about what you can and cannot bring along with you. Space is at a premium, even inside a large crossover. Of course, you could pack a trailer to tow along behind you, but this will slow you down and limit where you can actually go. What you could do, instead, is consider roof-top storage. Often overlooked, the roofs of many off-road-focused vehicles are quite sturdy and are able to support several hundred pounds of weight. In fact, there are even roof-top tents available so that you don't have to sleep inside your car – you can sleep on top of it, instead.
Just be sure not to overload your roof, since another tip is to keep your cabin aerated overnight. Leaving your windows down can be dangerous because you have more to worry about than a few raccoons sneaking in to get at your midnight snack. There is always the possibility that something larger could come a-knocking, or you might fall victim to something as mundane as a burglar or possibly carjacker. This is why it is highly recommended that you opt for a sunroof. This allows for the flow of air, and it can easily be fitted with a bugnet to get unwanted visitors out.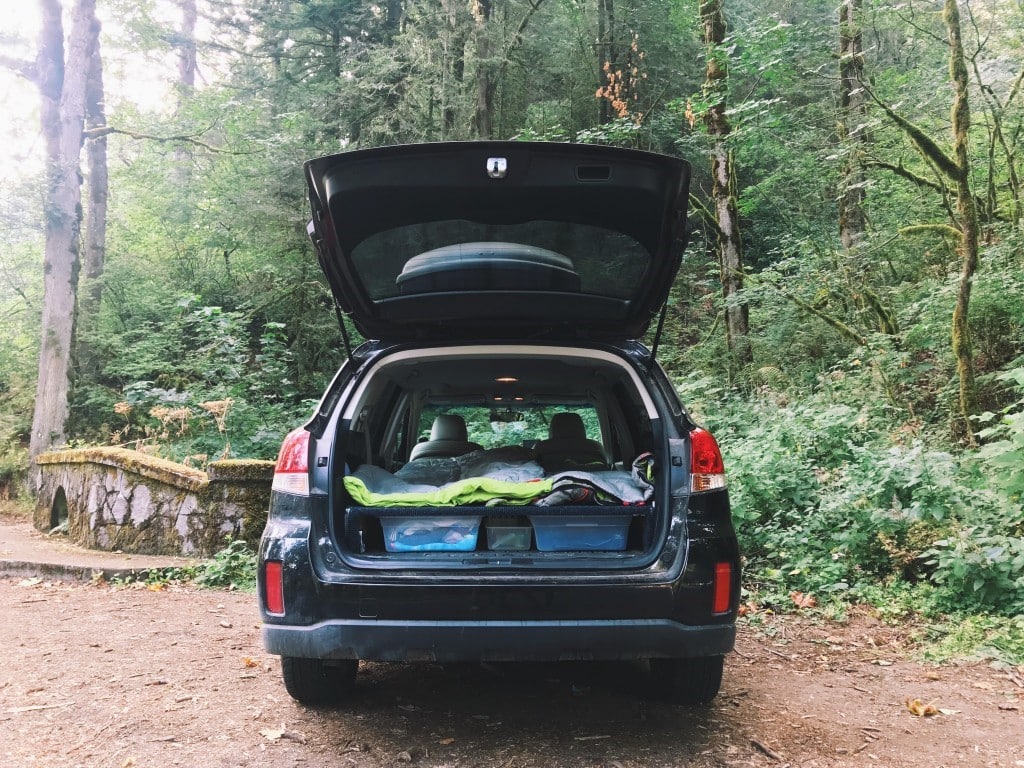 Low-tech vs high-tech
We have a lot more gadgets at our disposal than ever before, but many go to waste when you're roughing it. Perhaps the most relevant topic here is alternative propulsion. Hybrids and electric cars are seen as the next big thing in the automotive industry, with unbeatable fuel economy and more horsepower and torque than most people know what to do with.
However, if you plan on spending most of your time out in the woods and hills of the USA, a plug-in hybrid would be a waste, and a fully electric vehicle would be untenable. Still, you can do your best to keep your carbon footprint as small as possible by opting for a vehicle with a smaller-displacement turbocharged powertrain or even a diesel engine. While still traditional combustion motors, these setups offer much better mileage than a throaty V6 or V8. Not only will this minimize your environmental impact, but it will also save you a few greenbacks.
At the end of the day, you need a car you can live with, quite literally. So, don't just trust a review you read online; these are just the first step you take towards owning a new vehicle. It is imperative that you take your top picks for a test drive to find the one that really speaks to you. If you keep in mind what your needs are, and make use of some camping life hacks, you can't go wrong.